---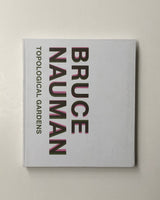 Bruce Nauman: Topological Gardens
Catalogue organized by Carlos Basualdo
Essays by Carlos Basualdo, Erica F. Battle, Marco De Michelis and Michael R. Taylor
8vo. pp. 240. profusely illustrated. hardcover boards. (fine condition - covers bit scuffed). Philadelphia: Philadelphia Museum of Art in association with Yale University Press, [2009].
ISBN-10: 0300149816 / ISBN-13: 9780300149814

_________________________________________________________________________________________________
A close study of Bruce Nauman, the representative of the United States at the 53rd Venice Biennale, in the context of the city where the exhibition takes place

One of the most complex and fascinating artists working today, Bruce Nauman (b. 1941) has assembled a mesmerizing body of work that encompasses video, installation, drawing, sculpture, printmaking, photography, and neon. In 2008, Nauman was unanimously selected to represent the United States at the 53rd Venice Biennale, in an exhibition organized by the Philadelphia Museum of Art. The accompanying catalogue explores the interconnections among several specific themes that have recurred prominently throughout four decades of Nauman's work. Linking the urban texture of Venice to the topological dimensions of his provocative art, the overarching project allows for an unprecedented occasion for the appreciation and exploration of Nauman's undeniable creativity and influence.
Bruce Nauman: Topological Gardens includes texts by Erica Battle and Carlos Basualdo on the organization of the exhibition and the publication, featuring detailed discussions of the works in the show. Michael R. Taylor examines Nauman's practice in an art-historical context, and Marco de Michelis explores the notion of space as deployed throughout Nauman's oeuvre, with particular reference to the works on view.