---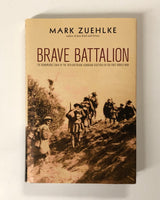 Brave Battalion: The Remarkable Saga of the 16th Battalion (Canadian Scottish) in the First World War by Mark Zuehlke

8vo. pp. x, 289. map illustrations + 16 pages of b/w illustrations. index.  bds. dw. Mississauga: John Wiley & Sons Canada Ltd., [2008].


New & out-of-print.


ISBN-10:
0470154160
/ ISBN-13: 9780470154168

_____________________________________________________________________________________________
On the eve of the 90th anniversary of the armistice of the Great War, Canadians have cause to reflect on a conflict so terrible and so devastating for families who lost many of their young sons. In town centres across Canada, war memorials pay tribute to the fallen. Who were they? From what deep well sprang so much courage, resourcefulness and resilience? In the  much and filth of sodden battlegrounds, how did these farmers, fishermen and shopkeepers persevere and acquit themselves so splendidly against a superb foe?
Mark Zuehlke, acclaimed author and military historian, tells the story of the average Canadian who volunteered for the Canadian Expeditionary Force through the lens of one battalion-the 16th Battalion (Canadian Scottish) of the 1st Canadian Infantry Division. This Highland Regiment fought in the Ypres Salient and in the Somme, at Vimy and Amiens. It suffered the first gas attack; its ranks were decimated as it fought at virtually every major battle in  the European theatre.
From the declaration of war to the cessation of hostilities, Zuehlke follows the battalion from marshalling and training in Canada, across the Atlantic to England, and then landing in Europe. In graphic detail he takes the reader into the trenches and onto the shell-pocked battlefields, through assaults on ridges and wooded valleys. One unshakeable, startling image is that of the piper piping troops into battle-exposed to enemy fire all the while.
Brave Battalion is not a sweeping history of the conflict. It is rather the story of war on the ground as told though the accomplishments of a band of brothers-the Canadian Scottish-who came to represent the best of what Canada sent into battle.