---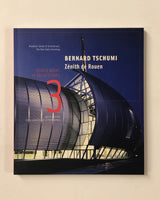 Bernard Tschumi: Zenith de Rouen, Rouen, France (Source Books in Architecture 3) by Todd Gannon and Jeffrey Kipnis


8vo. pp. 160. profusely illustrated. biographies. bibliography. paperback wrappers. New York: Princeton Architectural Press, 2003.


New.

ISBN-10: 1568983824 / ISBN-13: 9781568983820

_______________________________________________________________________________________________

From the Knowlton School of Architecture, The Ohio State University Source Books in Architecture series


Source Books in Architecture
is a new series focusing on new single works by significant architects. Sponsored by Ohio State University, the series reveals the architectural motivations and techniques behind each building.

The Source Books document each work with sketches, models, renderings, working drawings, and photographs at a level of detail that allows complete and careful study of the project from its conception to the completion of design and construction - the musical score to the architect's symphony. The graphic component is accompanied by commentary from the architect and critics to further explore both the technical and cultural content of the work.

The intensity and timelessness of
Bernard Tschumi:Zenith de Rouen
provides a detailed presentation of Bernard Tschumi's recently completed concert hall and exhibition complex in Rouen, France.