---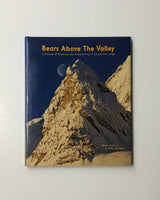 Bears Above the Valley: A History of Catskiing and Snowboarding at Island Lake Lodge by Mark Gallup & Mike McPhee
4to. pp. 96. profusely illustrated. hardcover boards. dw. (near fine). [Fernie, B.C.]: Oolichan books, [2012].
ISBN-10: 0889822921 / ISBN-13: 9780889822924
______________________________________________________________________________________________
The limestone spires of the Three Bears rise above the Lizard Range and Cedar Valley like sentinels guarding a secret place. And a very special place it is. The Cedar Valley is home to a unique old-growth rainforest including 800-year-old cedar trees. The Valley's intense micro-climate produces an unusual amount of snow for this part of the Rocky Mountains, adding to the reputation of one of the best-known backcountry lodges in North America: Island Lake Lodge. Bears Above the Valley explores the diverse history of the Cedar Valley and Island Lake Lodge, well documented with stunning photography and insightful text. Scot Schmidt, godfather of freeskiing, and Craig Kelly, pioneer of big mountain snowboarding, are two of the many ski-industry characters who are covered. Their pursuit of backcountry lines, deep powder and big mountain freedom are an integral part of the Island Lake story.