---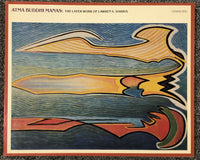 Atma Buddhi Manas: The Later Work of Lawren S. Harris By Dennis Reid


oblong, 8vo. pp. 112. profusely illustrated in b/w, some colour. biblio. wrs. Toronto: Art Gallery of Ontario, [1985].

Exhibition Catalogue. Published to accompany an exhibition held at the Art Gallery of Ontario, Sept. 27 - Nov. 24, 1985 and travelling to other galleries.


ISBN: 0919777201 / 978-0919777200


NEW.



Lawren S. Harris was one of the most respected members of the Group of Seven, the famous Canadian artistic collective, which in the minds of many Canadians still embodies the very idea of a Canadian art.


The Group's tremendous success during the early 1920s, which awakened in Canadians a feeling of national pride through the passionate portrayal of the Canadian landscape, has literally overshadowed their later artistic productions.
Nevertheless, it is ironic that the later careers of its individual members were so neglected by art historians, collectors, and institutions alike.

Dennis Reid's Alberta Rhythm (1982) and Canadian Jungle (1985) were the first indepth studies to deal with the post-Group-of-Seven work of A.Y. Jackson and Arthur Lisemer respectively.


In Atma Buddhi Manas, Dennis Reid traces the development of Lawren S. Harris as one of Canada's first important abstract painters, and shows how his commitment to abstraction grew out of earlier concerns, influenced by nationalistic feelings, esoteric thought, and contemporary abstract art. Harris' belief in the central function of art as an inspiration for elevated spirituality shines through these later works.