---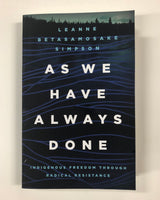 As We Have Always Done: Indigenous Freedom Through Radical Resistance
by Leanne Betasamosake Simpson


8vo. pp. 312. index. wrs. Minneapolis: University of Minnesota Press, [2017].

New.
ISBN-10: 
1517903866
/ ISBN-13: 9781517903879


Best Subsequent Book Award From THE NATIONAL AMERICAN AND INDIGENOUS STUDIES ASSOCIATION

LABRIOLA CENTER AMERICAN INDIAN National Book Award Honorable Mention

As We Have Always Done, locates Indigenous political resurgence as a practice rooted in uniquely Indigenous theorizing, writing, organizing, and thinking. It makes clear that the goal of Indigenous resistance can no longer be cultural resurgence as a mechanism for inclusion in a multicultural mosaic, calling for unapologetic, place-based Indigenous alternatives to the destructive logics of the settler colonial state.