---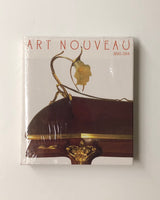 Art Nouveau 1890-1914 by Paul Greenhalgh
4to. pp. 496. profusely illustrated. hardcover. dw. New York: Harry N. Abrams, 2000.
New in publisher's shrink wrap.
ISBN-10: 0810942194 / ISBN-13: 9780810942196
_______________________________________________________________________________________________
Art Nouveau exploded onto the art and design scene in the early 1890s and spread rapidly throughout the Western world. This lush volume-created to accompany a major museum exhibition that opened at the Victoria & Albert Museum, London, before moving to the National Gallery of Art, Washington, D.C., in October 2000-is the most beautiful, complete, and wide-ranging study ever published on this enormously popular and influential style.
A wealth of illustrations and rare period photographs showcase masterpieces in all mediums-from Tiffany lampshades, Mucha posters, Klimt paintings, and Lalique jewelry to architecture by Victor Horta, Antoni Gaud, and Louis Sullivan. The text, by 20 leading scholars, is a timely reappraisal of a style that flourished at the turn of the last century, in a world grappling with new ideas and rapid social change. Decadent yet popular, both loved and hated, Art Nouveau gave rise to the concept of an all-encompassing "lifestyle environment"-a total work of art designed to appeal to the broadest possible audience.
This season's most scintillating art book, Art Nouveau, 1890-1914 will be unrivaled for years to come.