---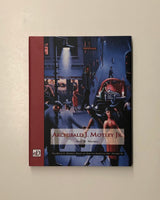 Archibald J. Motley Jr. by Amy M. Mooney
The David C. Driskell Series of African American Art: Volume IV

4to. pp. x, 116. profusely illustrated. chronology. index. hardcover cloth. dw. San Francisco: Pomegranate, [2004].
New.
ISBN-10: 0764928864 / ISBN-13: 9780764928864
_______________________________________________________________________________________________
Archibald J. Motley Jr. (1891-–1981) devoted his prodigious and critically acclaimed career to portraying African Americans seriously rather than as caricatures, hoping that honest African American art would become accepted and a subsequent synthesis would occur, creating an American art form appreciated by all, regardless of racial identity.
Drawing on the artist's paintings and eloquent writings; recently unearthed taped interviews; unpublished paintings and sketches; and her own interviews, research, and firsthand analysis, Amy M. Mooney examines Motley's work from the 1920s through the 1940s and discusses his significant contributions to the American art scene. Color images reveal the breadth of Motley's subject matter, from early portraiture to café society to genre scenes.
For many years artists have depicted the Negro as the ignorant southern "darky," to be portrayed on canvas as something humorous; . . . In my paintings I have tried to paint the Negro as I have seen him and as I feel him, in myself without adding or detracting, just being frankly honest. —Archibald J. Motley Jr.
About the Author Amy M. Mooney received a doctorate from Rutgers University, in American Art History with specialization in African American art. Currently Professor of Art History and Critical Theory at Columbia College in Chicago, she has published many articles, including "Representing Race: Disjunctures in the Work of Archibald J. Motley, Jr.," in African Americans in Art (The Art Institute of Chicago and University of Washington Press, 1999).