---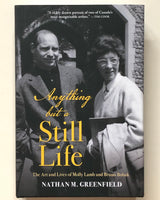 Anything but a Still Life: The Art and Lives of Molly Lamb and Bruno Bobak
by Nathan M. Greenfield

8vo. pp. 388. 32 pages of colour illustration. b/w text illustrations. bibliography. index. bds. dw. [Fredericton, N.B.]: Goose Lane Editions, [2021].
New.
ISBN:
1773100920
/
9781773100920



Molly Lamb and Bruno Bobak shot to prominence as war artists during the Second World War. Marrying shortly after the end of the war, they moved first to Vancouver and then, in 1960, to Fredericton, where they settled permanently. Molly's paintings were vibrant and colourful, featuring dynamic crowd scenes and wildflowers that seem to wave on the page. In contrast, Bruno painted near-abstract cityscapes, stunning landscapes, and distorted bodies wracked with inner torment, work that is unique in Canadian art.
For the first time, Nathan M. Greenfield brings to light the private and public lives of two of the most important figures in 20th century Canadian art. Combining archival research with Molly's diaries and letters, interviews with friends and contemporaries, and an analysis of paintings by both artists, he develops an intimate portrait of their life and art: their critical acclaim, commercial success, and a turbulent marriage that lasted over fifty years.