---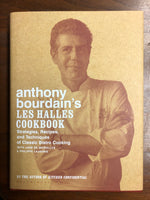 8vo. pp. 304. profusely illustrated in colour, some b/w. index. bds. wrs. [New York]: Bloomsbury, [2004].
Photographs by Robert DiScalfani.

"Anthony Bourdain's Les Halles Cookbook joins the classic French cookbooks on my shelf, and shames every would-be 'bistro bible'. Bourdain is in top form. Nobody else writes with such respect for real food, and his irreverence toward the pompous trappings of cooking is hilarious. An expert attack plan for producing delicious fare, this field guide and cookbook is part Kerouac, part Liebling, and a lot of Escoffier all rolled into one." –  Mario Batali, author of The Babbo Cookbook
Bestselling author, TV host, and chef Anthony Bourdain reveals the hearty, delicious recipes of Les Halles, the classic New York City French bistro where he got his start.
Before stunning the world with his bestselling Kitchen Confidential, Anthony Bourdain, host of the celebrated TV shows Parts Unknown and No Reservations, spent years serving some of the best French brasserie food in New York. With its no-nonsense, down-to-earth atmosphere, Les Halles matched Bourdain's style perfectly: a restaurant where you can dress down, talk loudly, drink a little too much wine, and have a good time with friends. Now, Bourdain brings you his Les Halles Cookbook, a cookbook like no other: candid, funny, audacious, full of his signature charm and bravado.
Bourdain teaches you everything you need to know to prepare classic French bistro fare. While you're being guided, in simple steps, through recipes like roasted veal short ribs and steak frites, escargots aux noix and foie gras au pruneaux, you'll feel like he's in the kitchen beside you-reeling off a few insults when you've scorched the sauce, and then patting you on the back for finally getting the steak tartare right.
As practical as it is entertaining, Anthony Bourdain's Les Halles Cookbook is a can't-miss treat for cookbook lovers, aspiring chefs, and Bourdain fans everywhere.