---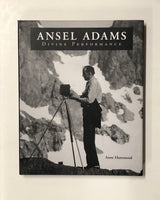 Ansel Adams: Divine Performances by Anne Hammond

8vo. pp. x, 197. black & white illustrations. bibliography. index. hardcover boards. dw. New Haven & London: Yale University Press, [2002].


New.


ISBN-10: 0300092415 / ISBN-13: 9780300092417
______________________________________________________________________________________________

Ansel Adams's magnificent photographs of the American wilderness are recognized and admired the world over. Adams is also a major cultural figure in American history, shaping many of our current views of the natural world through his compelling and accessible images. Despite his significance, little scholarly attention has been paid to Adams's contributions as an artist or his place in photographic history. This handsome book addresses this gap by taking the first look beyond the photographer's reputation as a Sierra Club environmentalist and examining in depth his life as an artist and the complexities of his creative vision.
Photo historian Anne Hammond provides a nuanced discussion of the evolution of Adams's landscape art and the aesthetic significance of his work. To set his landscape photographs in historical and philosophical context, Hammond traces the development of Adams's prints in relation to his artistic consciousness. She also offers insightful background on the contributions of scientific, literary, and artistic individuals who inspired Adams's journey in the arts, including scientists and philosophers Joseph LeConte and Alfred North Whitehead, writers Edward Carpenter and Ella Young, and photographers Alfred Stieglitz, Edward Weston, and Minor White. The concluding chapter of the book provides a detailed criticism of the photographer's best work and shows the relation between these images and their maker's ethical and artistic commitments. Admirers of Adams's photography as well as enthusiasts for the history of American photography and landscape studies will find this an essential volume for their libraries.