---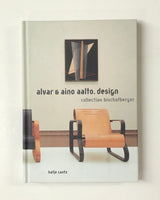 Alvar & Aino Aalto Design: Collection Bischofberger Edited by Thomas Kellein

8vo. pp. 224. English & German text. profusely illustrated. hardcover boards. [Ostfildern, Germany]: Hatje Cantz, [2005].


New.


ISBN-10: 3775715975 / ISBN-13: 9783775715973

____________________________________________________________________________________________

In addition to being the most important Finnish architect of the twentieth century, Hugo Alvar Henrik Aalto (1898-1976) was also one of the most noteworthy furniture designers of the modern era. His complete system--including stools, chairs, armchairs and tea trolleys--is characterized by curving line formations that were considered exemplary. As early as 1938, Aalto's work was acquired by New York's Museum of Modern Art. His bentwood Paimio chair is celebrated in a family of furniture design that includes such luminaries as Marcel Breuer, Ludwig Mies van der Rohe and Charles Eames. In collaboration with his first wife, Aino Marsio, Aalto also designed organic, floral forms in glass. Their Savoy vase of 1936, created for the hotel of the same name, is legendary, and their group of bowls designed to be combined in a formation called the Aalto Flower has often been compared to the sculptures and paintings of classical modernism. this essential publication presents the pioneering furniture, glass objects and lamps of Alvar and Aino Aalto in a well-edited selection of photographs, paintings, drawings and sketches.