---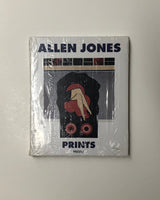 Allen Jones Prints
by Marco Livingston & Richard Lloyd

Foreword by Norman Rosenthal
4to. pp. 144. 297 illustrated. (81 colour, many full-page). biblioGRAPHY. hardcover cloth. dw. Munich & New York: Prestel, [1995].
First Edition.

New in publisher's shrink wrap.
ISBN-10: 3791314815 / ISBN-13: 9783791314815
_______________________________________________________________________________________________
Pop artist Allen Jones, painter, sculptor and printmaker, has been a constant presence on the international art scene for over 36 years. Centring on the human figure, his vibrant images exude a guilt-free eroticism and an unrestrained joie de vivre rare in British art. Allen Jones was born in 1937 in Southampton, England. From 1955 to 1959 he studied at Hornsey College of Art, London, and in 1959-60 at the Royal College of Art, London. He lived in New York in 1964-65. Jones has held teaching positions in London, Berlin, Hamburg, Los Angeles, Tampa, Florida and Alberta, Canada, and he has travelled widely, including visits to Japan in 1974 and China in 1979. He lives and works in London. Jones's work is rooted in the spirit of social and cultural regeneration that characterized the sixties, giving expression to the sexual liberation experienced by society at large during that decade. His erotically charged imagery has sometimes been interpreted as sexist (his "furniture" sculptures caused something of a scandal in the late sixties), but that is to misunderstand the artist's intentions. Like the work of Derek Boshier, David Hackney, R.B.
Kitaj and Peter Phillips - Jones's fellow students at the Royal College of Art, London, in the early sixties - his art is both a celebration and a critique of consumerism. Prints form an integral part of Jones's creative processes and are as important to him as painting and sculpture. Ever since his student days, he has produced a steady stream of graphic works, mainly lithographs, but also screenprints and some etchings. This book, published to coincide with an exhibition touring the UK, Germany and Spain, is a complete catalogue of Allen Jones's prints. Containing reproductions of all the artist's graphics, it celebrates over 35 years of a major artist's activity as a master printmaker.