---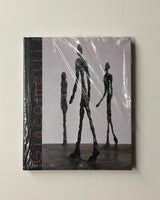 Alberto Giacometti
Edited by Christian Klemm, Carolyn Lanchner, Tobia Bezzola & Anne Umland
4to. pp. 296. profusely illustrated. hardcover cloth. dw. New York: Abrams, 2001.
New in publisher's shrink wrap.
ISBN-10: 0810962209 / ISBN-13: 9780810962200
______________________________________________________________________________________________
Today, one hundred years after his birth and a generation after his death, Alberto Giacometti is recognized as one of the small group of modern masters who dominated art during much of the twentieth century. This centennial volume both celebrates his achievement and reexamines his work, and thus contributes to a more focused concentration on the art itself
The importance of reassessing Giacometti's work resides not only in each new generation finding a somewhat different artist than its forebears, but also in that each fresh look tends to impede the spread of myths and generalizations that shield us from the complexities of a great artist's oeuvre. This publication is meant to extend popular and critical understanding of Giacometti's achievement and to return the reader to the center of Giacometti's work, where new insights can only be revealed by the objects themselves.