---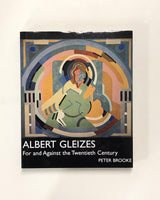 Albert Gleizes: For and Against the Twentieth Century by Peter Brooke
4to. pp. xi, 333. profusely illustrated. bibliography. index. cloth. dw. New Haven & London: Yale University Press, [2001].

As new.
ISBN-10: 0300089643 / ISBN-13: 9780300089646
_______________________________________________________________________________________________
Few painters lived the intellectual adventures of the early twentieth century as intensely as Albert Gleizes. At the centre of the public scandal over Cubism that broke out in Paris in 1911, he was with Marcel Duchamp and Francis Picabia in New York during the war and was one of the first European avant-garde artists to respond to the scale and vigour of New York life. Gleizes was also one of the few French painters of the 1920s to recognise nonrepresentational painting as the logical development of Cubism.

His work as a painter is accompanied by an immense body of theoretical work, addressing the question posed so starkly by Duchamp and Picabia: why should we paint? What is the justification for the work of art? Over his life he touches on many spheres of human activity - religious, political and cultural history, physics and the philosophy of work.

This book follows Gleizes' argument as it evolves, drawing on painting, and both published and unpublished writings. It reveals Gleizes, not just as a significant historical personality, but as a man whose work and thinking remains surprisingly fresh and relevant to the needs of our own time.