---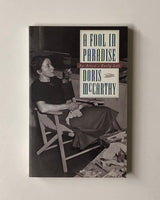 A Fool In Paradise: An Artist's Early Life by Doris McCarthy
8vo. pp. 258. 14 pages of b/w illustrations. paperback wrs. (near fine). Toronto: Macfarlane Walter & Ross, [1990].
First Edition.
ISBN-10: 0921912633 / ISBN-13: 9780921912637
________________________________________________________________________________________________
Doris McCarthy is one of Canada's foremost landscape painters, a dynamic woman whose career spans fifty years of Canadian art history. As a student in Toronto in the 1920's, she was tutored by Group of Seven members Arthur Lismer, A.Y. Jackson, J.E.H. MacDonald, and others; as a teacher, she inspired a generation of younger artists, among them Joyce Wieland.

This captivating memoir of her early years is the first installment of her warm and intimate biography. It describes the fortunes of an artist striving to establish herself in the art world of the thirties and forties and the odyssey of a spirited girl searching for her own path to fulfillment. Against the backdrop of those eventful decades, she writes of studying art in pre-war London, winning a teaching position in the depths of the Depression and roughing it on painting expeditions to northern Ontario, the Maritimes and the Rockies. She tells of her personal life: of breaking loose from a disapproving mother, building her own home on the bluffs above Lake Ontario, and of finding love in unexpected places.

Written with disarming candour and wit, and drawing on the diary she has kept since childhood, her story illuminates timeless themes: the youthful longing for independence, the nature of friendships between girls and women, the exhilaration of artistic creation, and the irresistible pull of nature and the Canadian landscape.
A Fool in Paradise
charms and enthralls with its unforgettable portrait of a young woman in search of herself.


The Good Wine, An Artist Comes of Age
, delivered the next stage of her life from the age of 40 from 1950 to 1991. It recounts her year of full-time painting in Europe; encounters with Dorothy Sayers and Arnold Toynbee; friendships with Bora Laskin and Boyd Neel. The second installment of her biography is as enchanting as the first.