---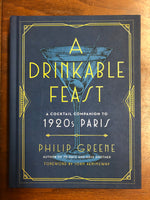 8vo. pp. xxii, 265. b/w illus. bds. [New York]: TarcherPerigee, [2018].
foreword by John Hemingway.
Winner of the 13th Annual Spirited Award, for Best New Book on Drinks Culture, History or Spirits

A history of the Lost Generation in 1920s Paris told through the lens of the cocktails they loved


In the Prohibition era, American cocktail enthusiasts flocked to the one place that would have them–Paris. In this sweeping look at the City of Light, cocktail historian Philip Greene follows the notable American ex-pats who made themselves at home in Parisian cafes and bars, from Ernest Hemingway, F. Scott Fitzgerald, and Gertrude Stein to Picasso, Coco Chanel, Cole Porter, and many more.

A Drinkable Feast reveals the history of more than 50 cocktails: who was imbibing them, where they were made popular, and how to make them yourself from the original recipes of nearly a century ago. Filled with anecdotes and photos of the major players of the day, you'll feel as if you were there yourself, walking down the boulevards with the Lost Generation.