---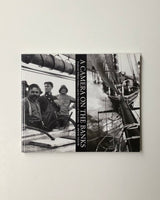 A Camera On the Banks: Frederick William Wallace and the Fisherman of Nova Scotia by M. Brook Taylor
oblong 8vo. pp. 152. b/w illustrations. index. paperback wrs. [Fredericton]: Goose Lane Editions, [2006].
New.
Out-of-print.
ISBN-10: 0864924410 / ISBN-13: 9780864924414
________________________________________________________________________________________________
"Together with five other men, I went out on the bowsprit to stow the jib after the downhaul and sheets had been manned. The canvas was flogging so violently that the stout bowsprit whipped like a sapling . . . we hung on with every finger a fishhook as the foaming water rose up to our knees." As a young journalist in Montreal in 1911, Frederick William Wallace only dreamed of the rough and tumble seafaring life. Little did he know he would be hanging on for dear life just one year later aboard the Effie M. Morrissey somewhere off the coast of Nova Scotia. Between 1911 and 1917, in the last age of unassisted sail, Frederick William Wallace made seven voyages aboard fishing schooners, and with his simple box camera, he photographed the men, the vessels and the work itself, knowing that he was capturing a century-old way of life at the moment of its passing. A Camera on the Banks: Frederick William Wallace and the Fishermen of Nova Scotia, tells this story in more than a hundred of Wallace's breathtaking photographs and drawings, as well as M. Brook Taylor's absorbing account of the fishery and the man who documented it in such loving detail. A Camera on the Banks is the first book of historic sailing photographs published with such unity and vision. A Camera on the Banks is designed to accompany a touring exhibition of photographs by Frederic William Wallace.