---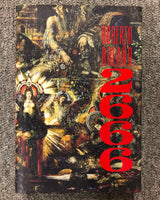 8vo. pp. 898. cloth. dw. New York: Farrar, Straus and Giroux, 2008.
Translated from the Spanish by Natasha Wimmer.
New.
A NATIONAL BOOK CRITICS CIRCLE AWARD WINNER
Three academics on the trail of a reclusive German author; a New York reporter on his first Mexican assignment; a widowed philosopher; a police detective in love with an elusive older woman--these are among the searchers drawn to the border city of Santa Teresa, where over the course of a decade hundreds of women have disappeared.
Published posthumously, 2666 is, in the words of La Vanguardia, "not just the greatest Spanish-language novel of this decade, but one of the cornerstones that define an entire literature."